Hi there!
It's July and it looks like Summer might finally been here after all that awful weather we had in June. And there is no better way to embrace Summer than to add a burst of vibrant yellow to your home!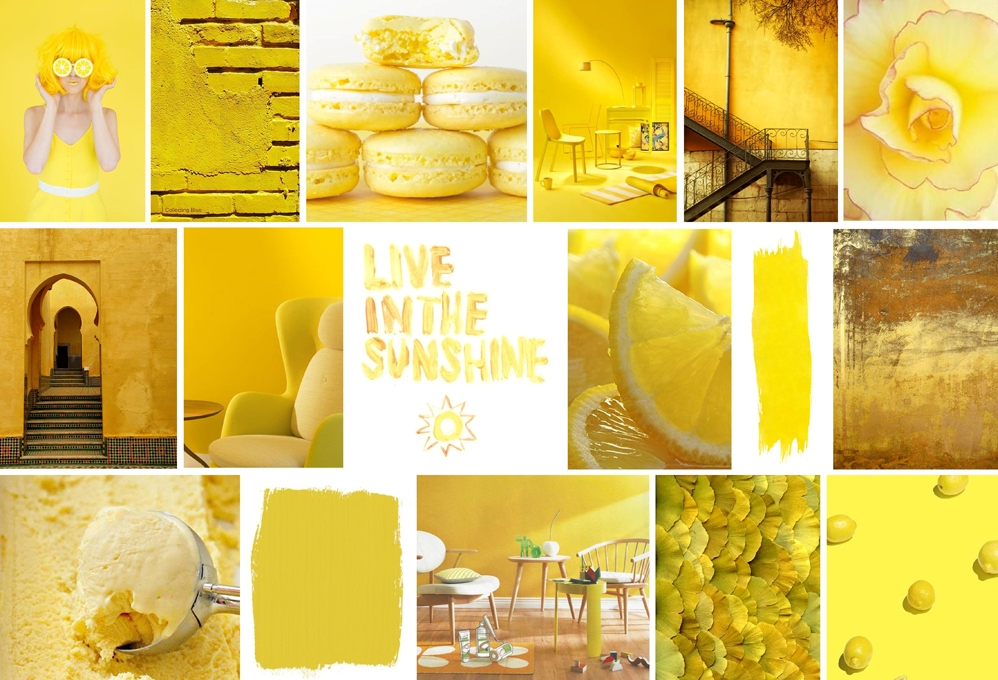 Yellow, as a colour, is defined as an emotional colour and in terms of psychology it symbolises such things as warmth, happiness, optimism, energy and confidence and it known to have a positive uplifting effect on your mood, and for these reasons alone why wouldn't you want a splash of yellow in your life?!
Yellow is a great welcoming colour, making it an ideal paint colour for your hallway or kitchen. If painting your walls yellow seems a bit daunting to you fear not, statement furniture pieces in yellow are a great and easy way to introduce yellow into your interiors without having to re-paint your whole room!
Now some of you might be thinking yellow is too bold a colour but there are various shades of yellow so you are bound to find a tone to suit your space. From the bright sunshine yellows, to the sophisticated mustard hues, to rich golden tones, to pretty soft pastels, to citrusy lemon shades, there is a yellow for every room!
Take a look below for some yellow interiors inspiration: (all photos taken from pinterest)
Sunshine Yellow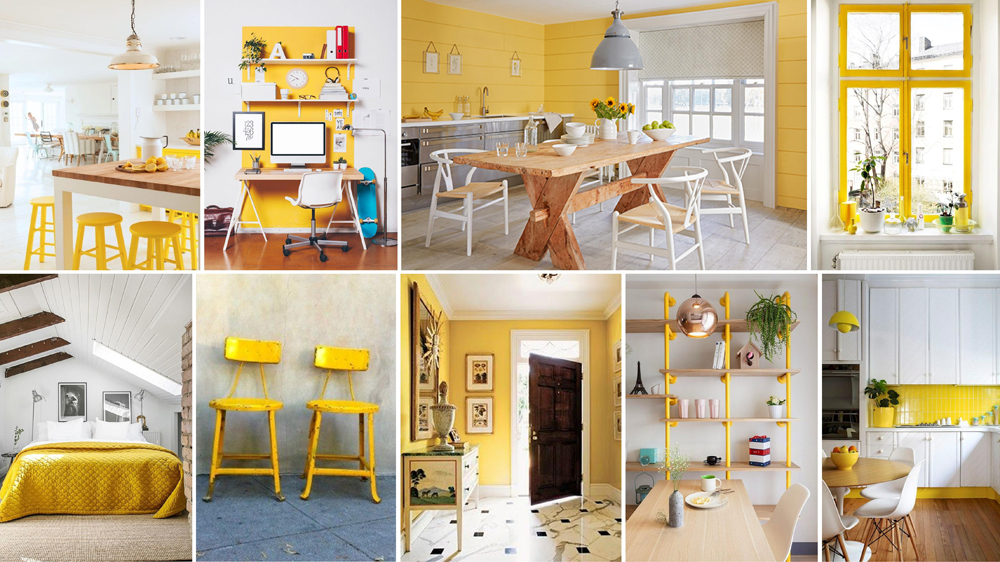 Make a statement with bright sunshine yellow furniture or painted pieces such as window frames or interior doors. Sunshine yellow works particularly well when paired against fresh white walls and light wooden floors or furnishings – creating a bright airy homely atmosphere with a zing a colour!
Mustard Yellow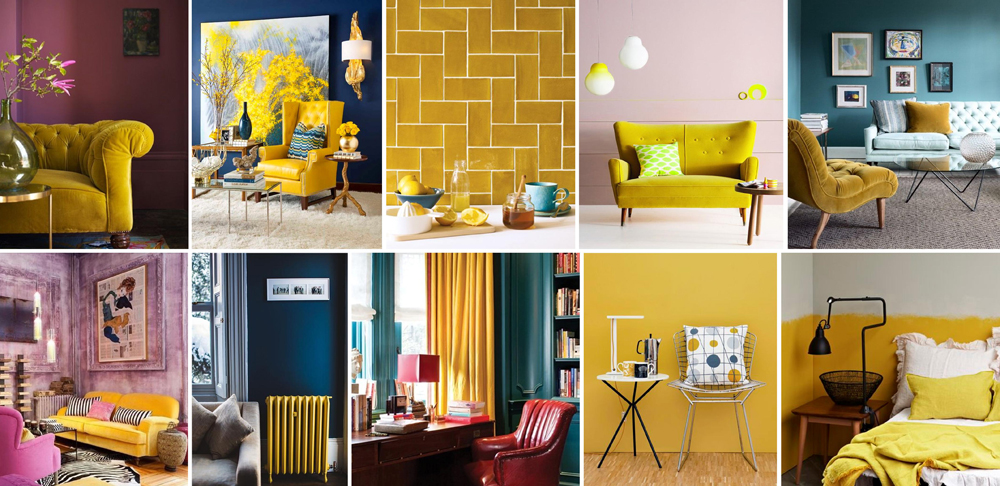 Mustard or golden yellows give a room a cosy yet sophisticated feel. Team it with darker shades such as teal, navy or plum to create a more opulent setting, or mix it with blush pinks and natural wood to create a modern scandi look. Mustard yellow really is a very versatile shade!
Yellow with Monochrome and Grey Colour Schemes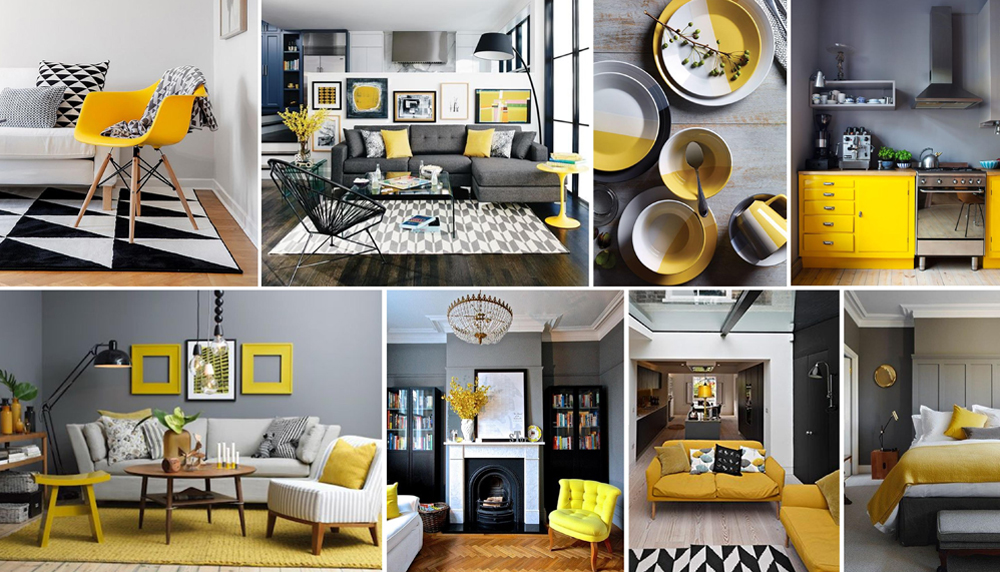 For a modern yet industrial look pair sunshine or mustard yellow tones with a monochrome or grey backdrop. The dark and neutral colour scheme really makes the yellow pop.
Soft Yellow Pastels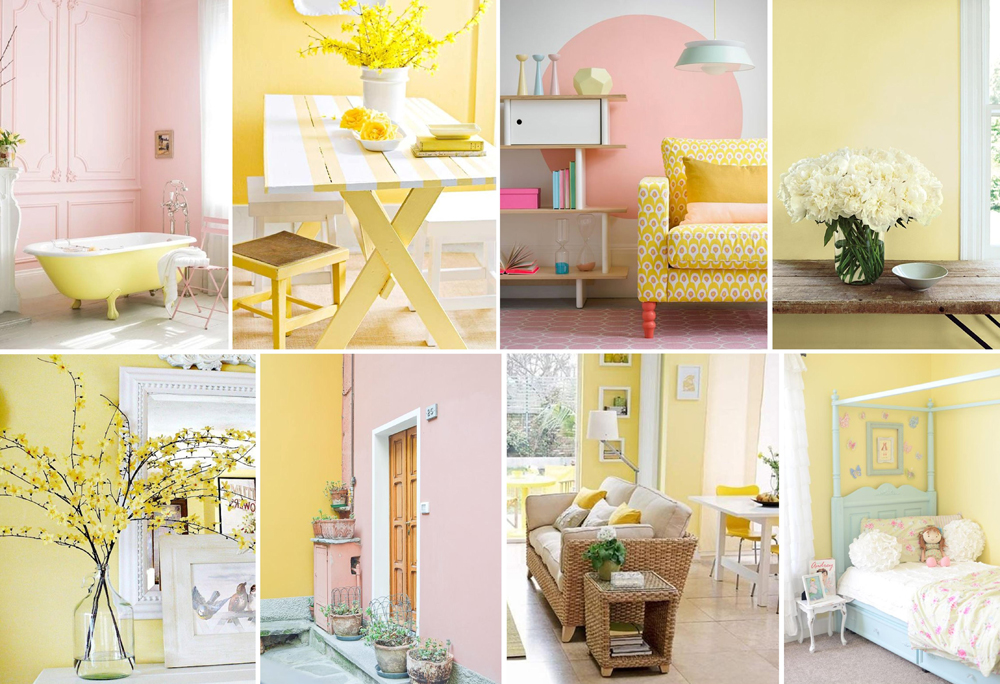 Soft lemon and pale yellows work particularly well when paired with pastel shades such as candy pink, mint green, and baby blue. Mix it with patterned furnishings for a retro feel or with white accessories for a calm relaxing bedroom or nursery scheme.
So now you been inspired here are some easy ways of adding a splash of sunshine to your rooms.
A great way of incorporating yellow into your interiors is through statement pieces such as rugs or cushions, a simple yet effective way of quickly updating your interiors. We particularly love our Pappelina rugs. Hand woven from soft plastic using traditional Swedish techniques these practical but stylish rugs can be used in any room of the house and even outside too! See below for some yellow interiors inspiration using our Pappelina rugs.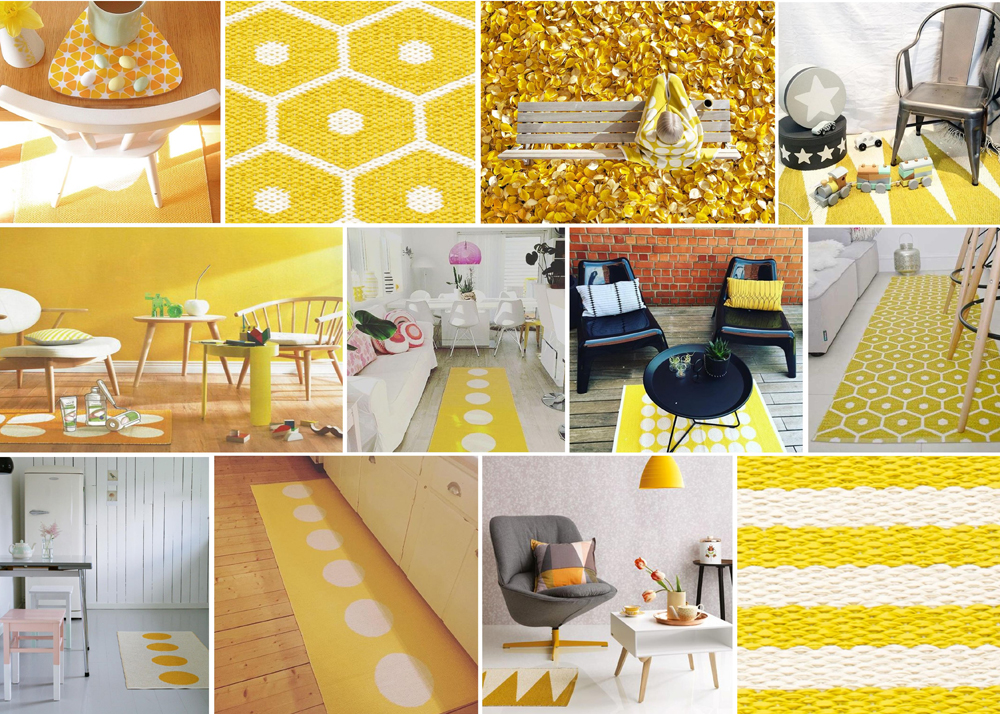 Pappelina has a number of rug designs in their collection available in a wide range of yellow tones, from zingy lemon, sunshine yellow, to subtle mustard – so you are bound to find a yellow to suit your space. Plus many of the rug designs are reversible, so can you choose the degree of yellow you want to add to your room. Pappelina rugs are available in a range of different sizes so you would be hard pushed not to find a rug to suit your needs!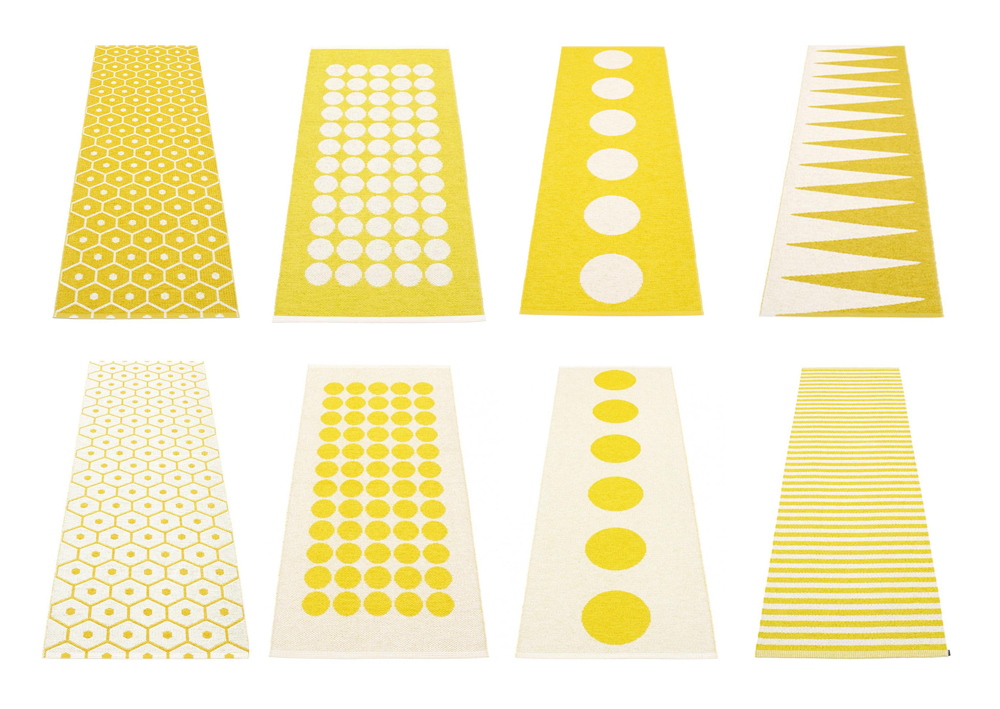 Pappelina rugs also come in smaller sizes (from 70 x 60cm), making them the perfect size for doormats (both inside and out) or bathmats, plus at £39 you really can't go wrong!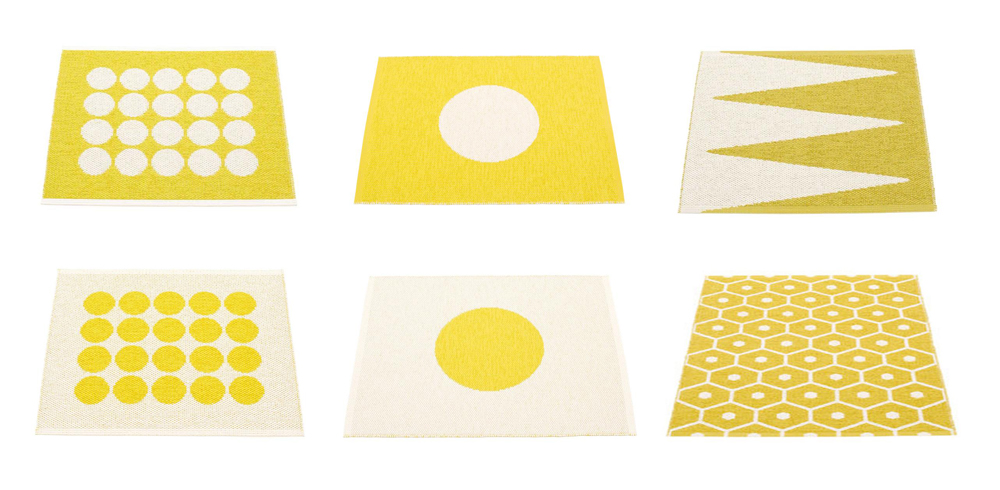 Cushions and throws are also a great way of injecting a burst of colour into your interiors. Pappelina have a range of cotton cushions and blankets in vibrant yellows to match and complement their rugs.
If you are new to the colour yellow, and the thought of adding large amounts of colour to your interiors scares you, don't panic! Adding small injections of yellow can completely transform your room making it seem brighter and more vibrant. Take a look at our selection of sunny yellow home accessories below for inspiration!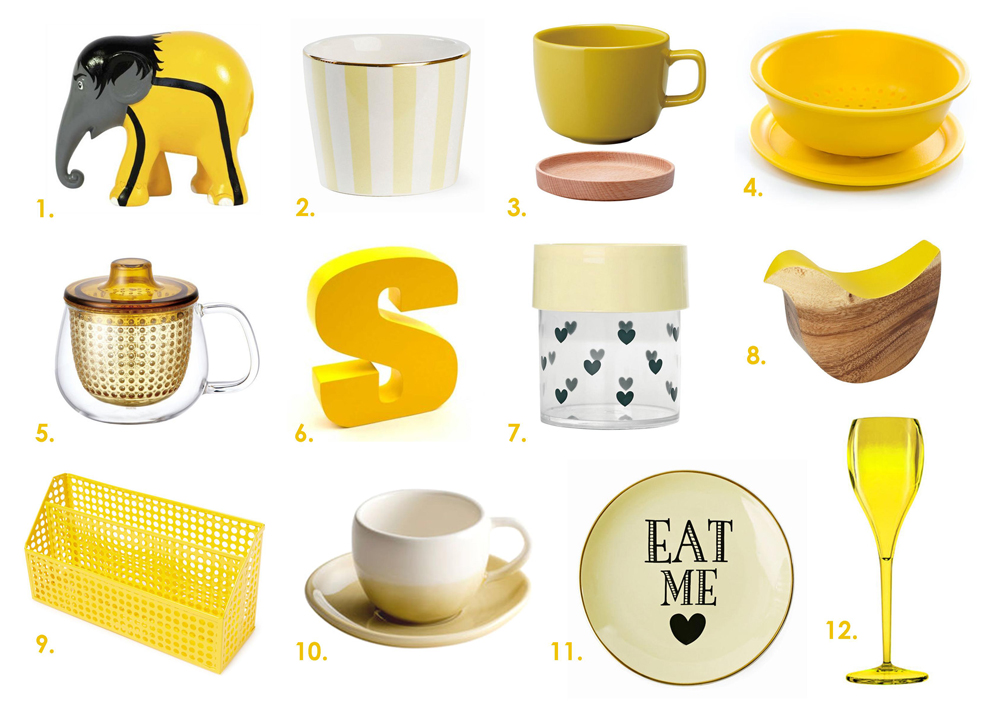 So go on then, let the sunshine into your home this summer with yellow!
Thanks for reading 🙂